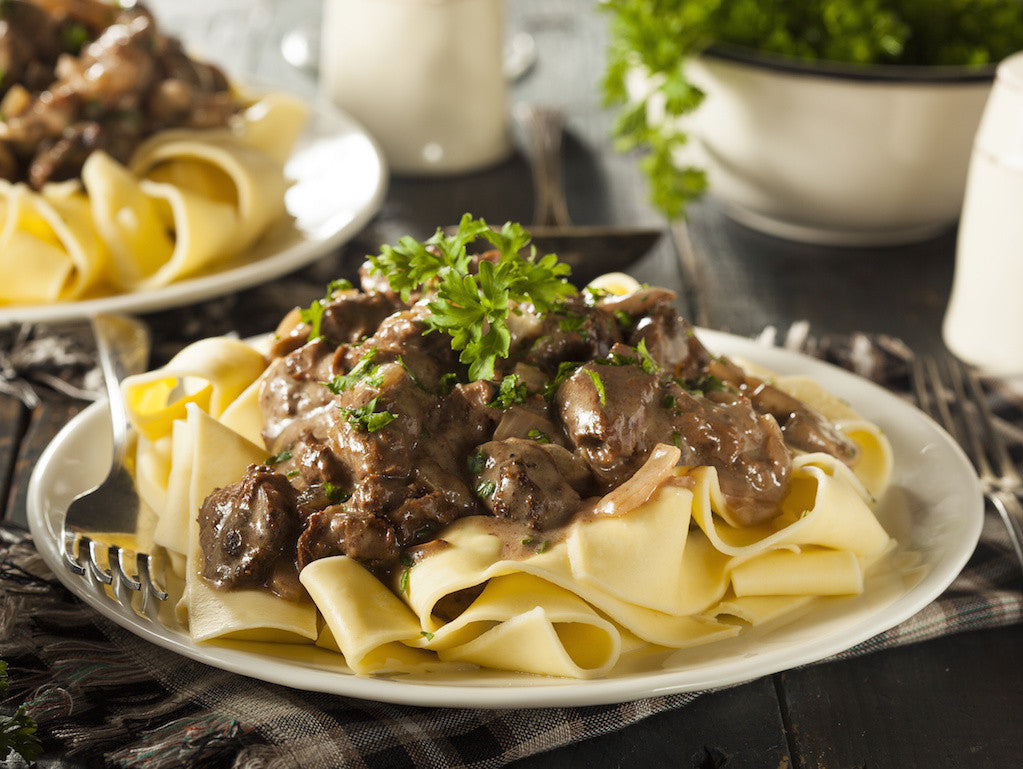 Beef stroganoff is an ultimate comfort food and satisfying cool weather meal. Tender strips of beef and mushrooms swirled in sour cream and served over noodles isn't diet food, but it'll sure make you smile. The preparation isn't fussy which is important for busy parents who don't have time to spend hours chopping, searing and simmering.
Ingredients: 
Serves 4; recipe doubles easily
2 tbsp. vegetable oil
1 pound beef sirloin, sliced in ⅛ in. strips (bite size)
Kosher salt and freshly ground black pepper
6 tbsp. butter
15 fresh mushrooms, quartered (or more!)
1 medium onion, thinly sliced
2 tbsp. tomato paste
2 tbsp. flour
2 cups beef broth
¾ cup sour cream (plain yogurt works too)
2 tsp. dijon mustard
2 tsp. freshly squeezed lemon juice
3 tbsp. freshly chopped parsley leaves
Kosher salt
1 package wide egg noodles
2 tbsp. butter
Freshly ground black pepper
Directions:
Preheat a large skillet over medium heat for 3 minutes; raise heat to high and add 1 tbsp. oil.
Season half the beef with salt and pepper, add to skillet in single layer; sauté for 1-2 minutes without stirring until well browned but still pink inside; transfer to large plate and set aside.

Repeat with remaining oil and beef; discard excess oil.

Return skillet to medium-high heat. Melt 2 tbsp. butter, add mushrooms and stir occasionally, until well browned. Season with salt and pepper to taste. Using a slotted spoon, transfer mushroom to the beef plate.

Heat 4 tbsp. butter in skillet, add onion and cook, stirring until lightly caramelized. Add tomato paste and cook, stirring, for 1 minute, until lightly browned.

Whisk in flour and cook for 1 minute.

Add beef broth, whisk constantly and bring to full boil.

Remove from heat and whisk in sour cream, mustard, lemon juice and season with pepper to taste.

Set sauce aside, covered.

Bring a large pot of generously salted water to boil and cook noodles until tender (but not mushy).

Drain noodles and transfer to a large bowl.

Toss with butter and season with pepper to taste.

Add the beef, and any juices, mushrooms and parsley to the sauce and reheat over medium heat until warm.

Divide the noodles over dinner plates and top with stroganoff. Serve immediately.
So good— enjoy!