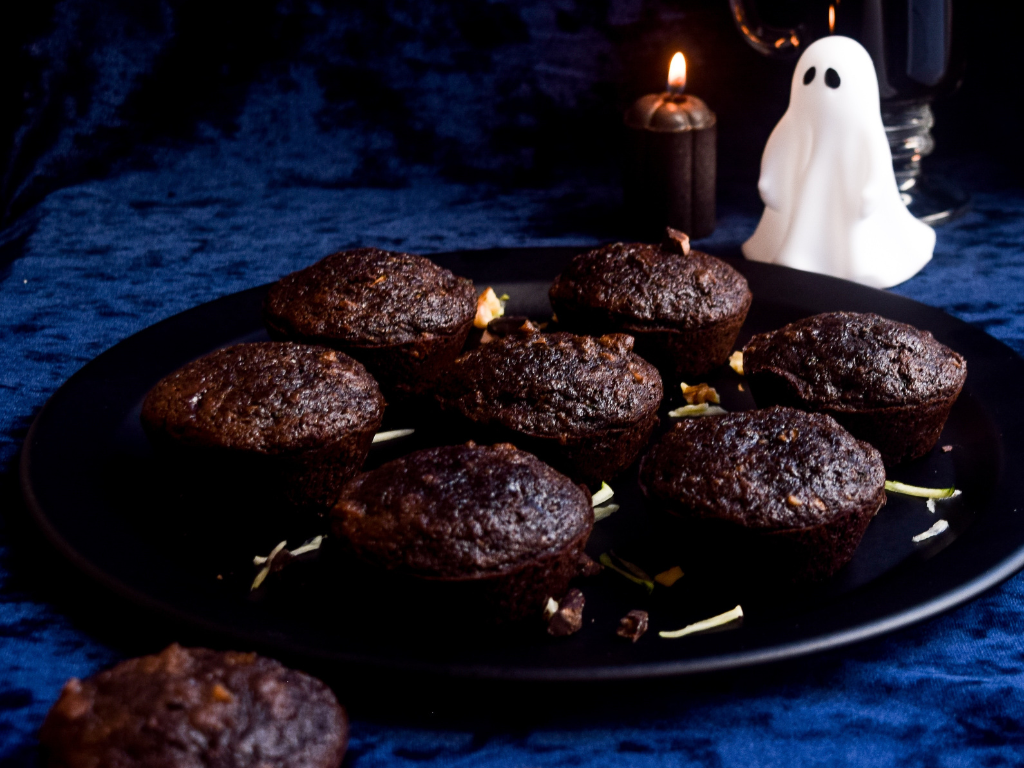 Halloween calls for treats that are not only devilishly delicious but also fit the spooky theme of the holiday. With a dash of creativity and a sprinkle of walnuts, you can whip up a batch of these eerie yet irresistible devil's food cupcakes. Not too sweet with a nice nutritional boost from the nuts, you can leave them unfrosted or see the note at the end for a creamy chocolate frosting.
INGREDIENTS:
1 ¾ cups all-purpose flour
1 ½ teaspoons baking powder
1 ½ teaspoons baking soda
¾ cup unsweetened cocoa powder
2 cups granulated sugar
2 large eggs
1 teaspoon vanilla extract
1 cup buttermilk
½ cup vegetable oil
1 cup hot water
For the Walnut Surprise:
½ cup walnuts, finely chopped
Frosting/Decorations: optional - see note*
METHOD:
Prepare the Devil's Food Cupcakes:
Preheat your oven to 350°F (175°C) and line a cupcake pan with paper liners.
Mix Dry Ingredients:
In a mixing bowl, sift together the flour, baking powder, baking soda, and cocoa powder.
Combine Wet Ingredients:
In another large bowl, beat the sugar, eggs, and vanilla extract until the mixture is well combined
.
Stir in the buttermilk and vegetable oil
Add Dry Ingredients:
Gradually add the dry ingredients to the wet ingredients, mixing until just combined


Slowly stir in the hot water until the batter is smooth
Add the Walnut Surprise:
Fold the finely chopped walnuts into the batter
Fill Cupcake Liners:
Fill each cupcake liner about two-thirds full with the batter
Bake and Cool:
Bake for 20-25 minutes or until a toothpick inserted into the center of a cupcake comes out clean


Allow the cupcakes to cool in the pan for a few minutes, then transfer them to a wire rack to cool completely
*NOTE:  Creamy Chocolate Frosting (optional)
These cupcakes are rich and satisfying enough to enjoy unfrosted, however there's not much that can't be improved by a dollop of chocolate frosting!
INGREDIENTS:
1 cup unsalted butter, softened
2/3 cup unsweetened cocoa powder
3 cups confectioners' sugar
1/3 cup milk
1 teaspoon vanilla extract
METHOD:
In a bowl, sift the cocoa powder to remove any lumps.
In a separate bowl, beat the softened butter until creamy.
Gradually add the sifted cocoa powder and confectioners' sugar to the butter.
Mix in the milk and vanilla extract until the frosting is smooth and creamy.
Once the cupcakes are complete cooled, pipe or spread the frosting. 
Spooky Decorations:
For an extra Halloween touch, place plastic spiders or other spooky decorations on top of the cupcakes.