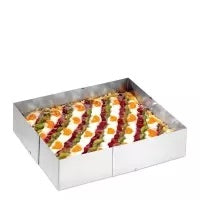 Practical and adjustable from 16 cm to 32 cm / 6 ¼ in. to 12 ½ in. for tortes or salads.Can be completely opened for cleaning.
external scaling from 16 cm to 30 cm / 6 ¼ in. to 11 ¾ in.
handles for continuous size adjustment
completely open it when cleaning it
Ø 16,0 cm, H 10,0 cm
high-grade stainless steel
dishwasher safe
The Party idea for the summer. This cake ring suites excellent for preparing a salad flan! The recipe is included in the carton, so you can start with the preparation immediately. But also for baking as a pastry cook. From stainless steel, adjustable diameter, with handles for precise and infinitely variable adjustability for cake diameters between 16 cm and 32 cm (/ 6 ¼ in. and 12 ½ in.), without divider, may be opened completely to be cleaned.