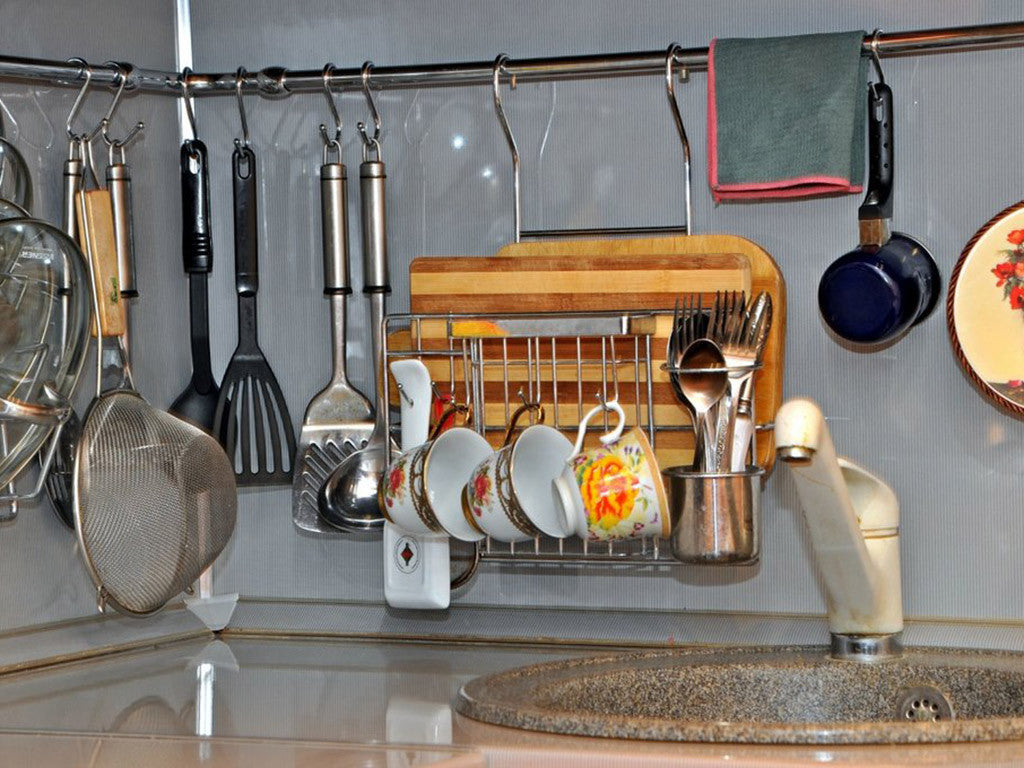 Storage is the number one issue in small space kitchens. You open a cupboard door and things tumble out, or you get home from the grocery store and just can't figure out where all this stuff can possibly go. The thought of having dinner guests is overwhelming because you feel you can't pull it off with so little space to prepare a meal.
You need some small space kitchen therapy, and maybe a glass of wine, as you thoroughly examine your space and get serious about how you use it. Your goal is to have a functional kitchen and if you're like most, you want it to look good too.
We've rounded up a few ideas to help you find that extra space you do have. Every inch has to do double duty in a small kitchen.
Go Vertical
hang a pegboard on unused wall space to hang kitchen essentials so you don't have to go digging when you need them

add a shelf for your pots and pans and install a rail beneath the shelf to hang utensils

use the wall space between your counter and cabinets to add shelving; use it to store grains, pastas, spices and legumes

use that 6"-8" space between your fridge and wall (probably where your broom and mop are stashed) to store a multi-tiered pantry on wheels; this looks like a narrow bookcase on wheels; great for dried or canned goods
Use Inside Cupboard Doors
mount a file folder inside a cupboard door to store saran, parchment, foil and wax paper

use a tension rod underneath your sink to hang spray bottles

add a dispenser for garbage bags to the side of your undersink cabinet

mount a small pegboard for measuring cups, spoons

add hooks for pot holders, rags and gloves
Free Up Cabinet Space
use the space between cabinets and the ceiling; good place for small kitchen appliances that don't get used often

hang pots and pans from the ceiling

install a pot rail underneath kitchen cabinets - you could use this to hang pots as well as metal baskets for fruit, onions, garlic…

hang cutting boards on the side of cabinets

place hooks underneath cabinets to hang favourite mugs

double your space by installing under-the-shelf racks
Other Great Ideas
put magnetic racks on the side of your fridge; great for fruit and getting clutter off your counter

use an over-the-sink cutting board to expand counter space

use a small curtain rod to store pot lids in a drawer

store pet food in a plastic container; uses less room than a bulky bag
We hope these ideas get you going. Every kitchen will have it's own unique unused nooks and crannies. Maximize yours for easier living.