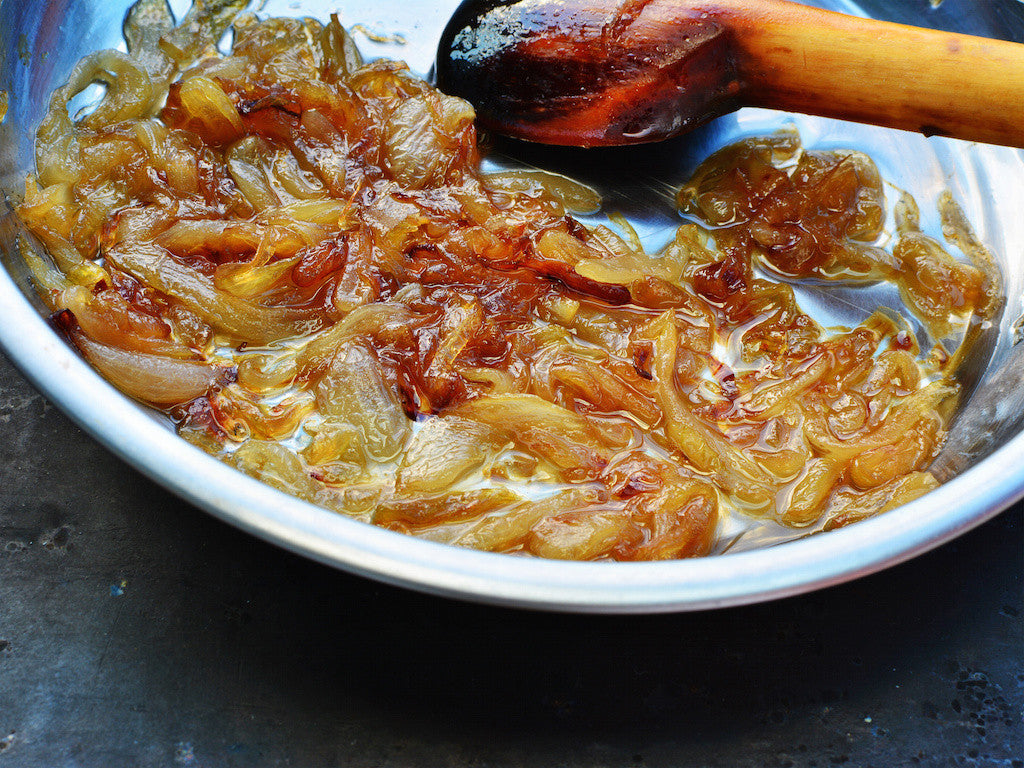 We've had so many mouthwatering appetizer and small plates recipes shared to our Penna Community Recipe Box, that we just had to share one. Recipe Box contributor, Joan Foster had us at "caramelized". We invite you to try out Joan's recipe and share one of your own! Immortalize your family recipe in a beautifully-crafted recipe box, win prizes and support the Mustard Seed! Find out how. 
CARAMELIZED ONION TART WITH GORGONZOLA & BRIE
"Bonnie Stern did this at a cooking class in Toronto. Everyone went home and made it again. And again." ~ Joan Foster
Prep time: 10 minutes | Cook time: 50 minutes | Yield: Makes 9 to 12 appetizer sized pieces.
2 Tbsp olive oil
4 cups of sliced onions, sliced root-to-top into 1/4-inch thick slices (about 2-3 med onions)
1 Tbsp brown sugar
2 Tbsp balsamic vinegar
1/2 tsp salt
1/2 tsp pepper
8 oz frozen puff pastry (defrosted a couple hours in the fridge)
2 oz chilled Brie cheese, rind removed and diced
2 oz Gorgonzola or other blue cheese, diced
2 Tbsp chopped fresh tarragon
1 Heat oil in a large deep pan on medium-high heat. Add onions and cook for about 10 minutes or until wilted and starting to brown. Add sugar, vinegar, salt and pepper. Reduce heat and cook gently, uncovered for 20-25 minutes or until richly caramelized. Add a little water if the onions look like they are starting to dry out. Cool.
2 Roll pastry into a 10-to-14-inch rectangle (or whatever shape you want). Place pastry on a baking sheet lined with parchment paper. Prick with a fork at a couple inch increments to prevent the pastry from forming big bubbles while baking.
3 Spread onions over pastry, all the way to the edges of the pastry. Dot with cheese. Sprinkle with tarragon. Refrigerate if not baking immediately.
4 Bake in a preheated oven at 400°F for 18-20 minutes or until cheese has melted and pastry is crispy. Cool for 5 minutes. Cut into wedges or squares and enjoy!