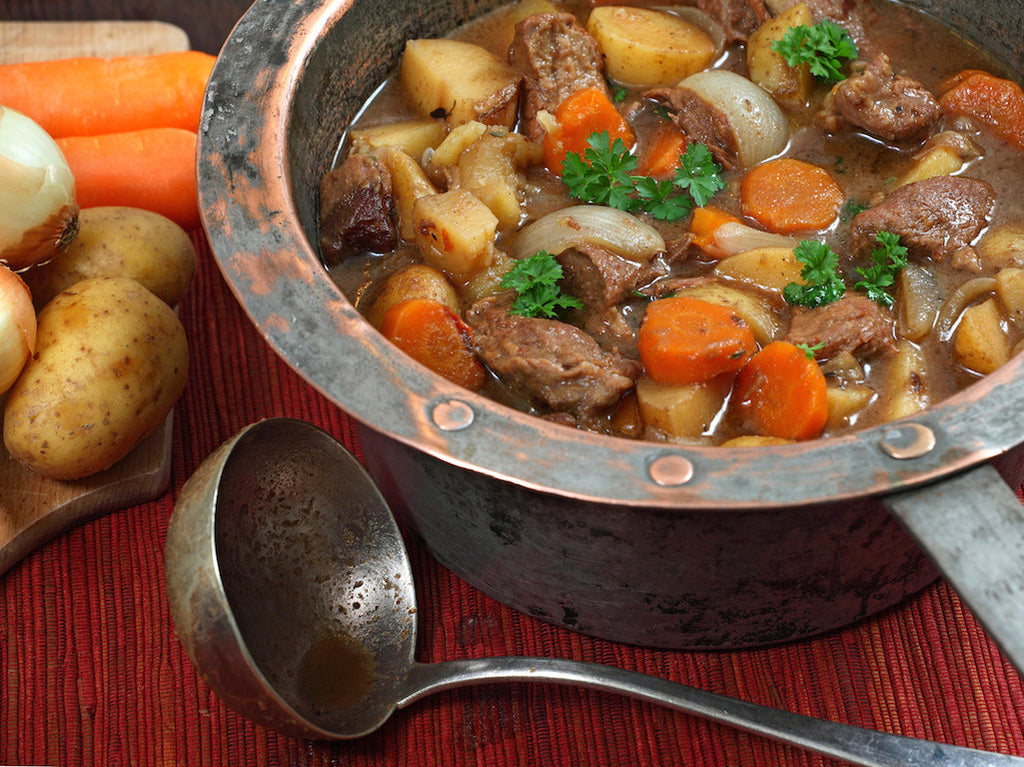 Looking for hearty, one-pot meal to ring in St. Patrick's Day? This old-fashioned lamb stew recipe isn't complicated—it just takes a little time. This recipe is adapted from our trusty and battered copy of Joy of Cooking.
INGREDIENTS:
3 pounds boneless lamb stew meat, cut into 1-inch cubes or 3 pounds lamb shoulder chops
2 tablespoons vegetable oil
6 medium-sized peeled potatoes (2 sliced + 4 halved)
3 cups chicken stock
8 medium carrots, peeled & cut diagonally into 1/2-inch slices
2 medium onions, chopped
1/4 cup pearl barley
1/4 cup heavy cream
2 teaspoons fresh thyme leaves
2 teaspoons fresh rosemary
Salt & pepper to taste
1/2 teaspoon Worchestershire sauce
PREPARATION:

Pre-heat oven to 325º F
Over medium heat, in a Dutch oven, heat 2 tablespoons of vegetable oil. Add 2 medium chopped onions and cook until softened, but not browned. 

Stir in lamb, thyme and salt/pepper (to taste). 
Add 2 medium-sized, thinly-sliced potatoes. These will cook away and thicken the stew. Pour in 3 cups of chicken broth and Worchestershire sauce. Stir to combine. 
Add 4 halved medium-sized potatoes. Cover with a snug-fitting lid and bake for 1 hour. 
After an hour, remove from oven and add 8 medium carrots, 1/4 cup pearl barley and 1/4 cup heavy cream, stirring after each addition. 
Cover and return to the oven and bake for another 45 minutes to one hour, or until the lamb is fork-tender and the barley is soft. Season with fresh ground black pepper and garnish with chopped parsley and a sprig of rosemary. 
Serve with thick slices of buttered soda bread and a pint (or two) of Guinness.